---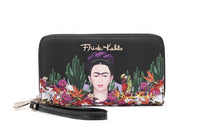 Frida Kahlo Jungle Collection Double Around Zip Wallet (Black/Black)
The Frida Kahlo wallet with a wristlet is made of faux leather with two zip closures. A zip pocket on the back. Two ID windows and 6 credit card slots in a zip compartment, and a zip closure, two spaces for bill pockets, and 8 credit card slots in the other zip compartment.
The size is 7.5(L) x 4.5(H) x 2(W) inches.
Officially licensed in the U.S.